Finding the best modern fonts can be tricky, especially with the plethora of different fonts available online. But don't worry; this list should help you find the perfect modern-looking fonts for your creative projects.
Whether you're looking for something sleek, edgy, or just plain cool, we'll help you find the ideal font for your next graphic design project.
Choosing a Top Modern Font
Modern fonts are very popular amongst designers all over the world. A good modern font can elevate your project to the next level, help you create an eye-catching logo, or make the perfect poster.
Best Sleek Fonts
Give your project a professional and clean look with a sleek modern font. Complete with clean edges and legible text, ULTRA is a stunning choice.
Best Edgy Fonts
Trying to add a little creative edge to your designs? Choosing an edgy font is a great way to get the message across. Our favorite modern, edgy font is Bank typeface, but we also love Unleash.
Free Modern Fonts
If you're not keen on purchasing a modern font, you could look into free modern fonts. Unfortunately, in most cases, free fonts don't work as well for professional graphic design projects such as business logos or other collateral.
But if you're not in a rush, you can get professional and free modern fonts. Just keep an eye on Creative Market's weekly free goods.
Top Modern Typefaces Reviewed:
This modern font guide features a few of our favorite fonts. Let your creativity flow with these top choices.
1. Branch – Modern Ligature Font
Serif
$
A-Z, 0-9, and punctuation
This elegant ligature font is stunning. It can be used for logos, branding, masterheads, and even invitations. It has both thick and thin elements as well as various alternates for each letter. It has both uppercase and lowercase glyphs.
Additionally, it also has an alphabet cut file, EPS/DXF/SVG files for Cricut and Silhouette. It's also PUA encoded.
Click to Check Price
2. ULTRA – Modern Sleek Font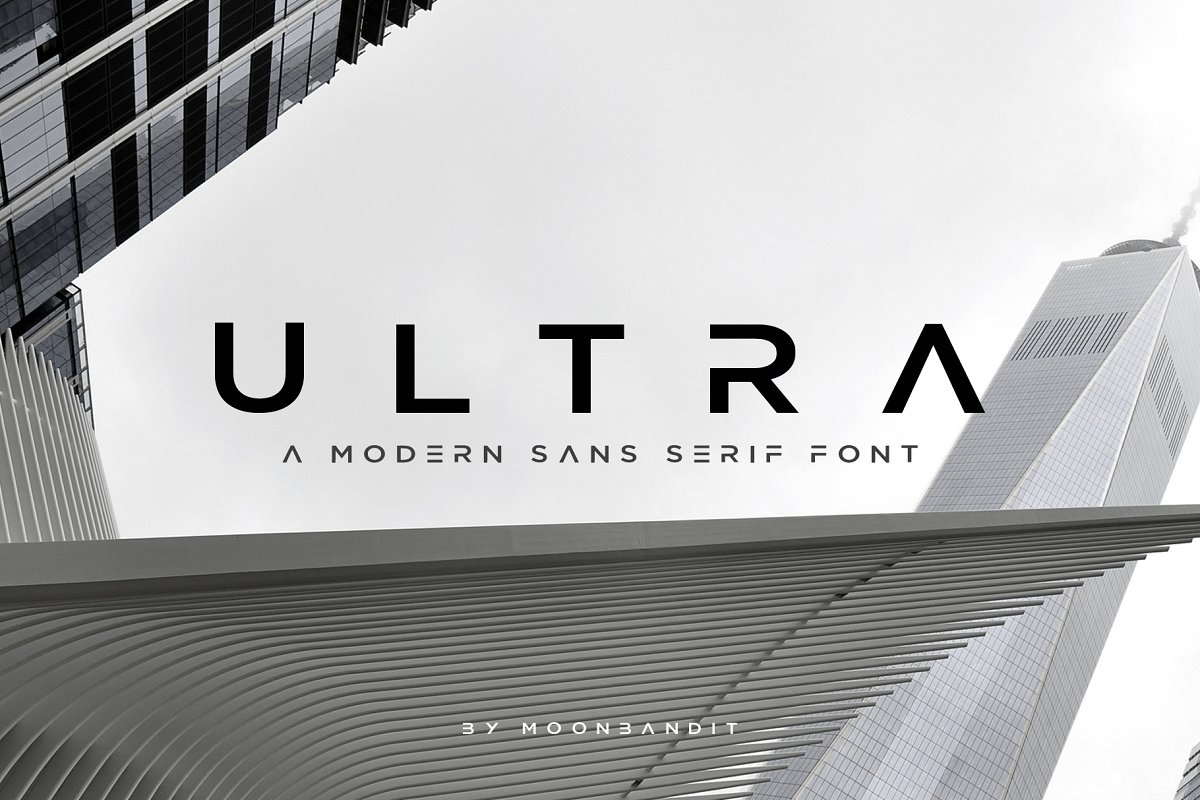 Sans-serif
$
A-Z uppercase letters and 0-9 numbers in both regular and italic
This font has a futuristic look, complete with strong edges and geometric corners. The modern high tech architecture world inspired ULTRA. Both the regular and italic versions offer stunning, sleek visuals that will stand out on any design.
Unfortunately, this sleek font only comes in upper case letters and doesn't have any variants.
Click to Check Price
3. Valky Classic Modern Typeface
Serif
$$
Lowercase and uppercase letters as well as alternates and ligatures
Valky is a classic modern typeface complete with beautiful ligatures, alternative glyphs, and ornaments. The font also offers multilingual support. It looks incredible scaled up and scaled down. It's ideal for logos, editorial projects, clothing design, and more.
The font comes in four weights: Light, Regular, Semi-Bold, and Bold in both OTF and TTF formats. You can access the glyphs in both Adobe Photoshop and Illustrator.
Click to Check Price
4. Bank Modern Typeface
Modern display font
$
All caps display font including punctuation, numbers, and 12 geometric shape backgrounds
Bank Typeface is a modern font that comes in two different styles. This edgy typeface has a lined version and a sectioned version that can be layered to create an alternate third style.
This font was designed to be layered! You can create an even more edgy design by duplicating the sectioned style and offsetting it. This will create a design that looked like offset printing or 3D anaglyphs.
With this feature, you can set different colors, blending mode settings, and opacity to create plenty of edgy and impactful designs.
This font works in smaller sizes, but it works better as a large display font.
Click to Check Price
5. Bastia Modern Font
Serif font
$
Serif bold and serif outline uppercase and lowercase fonts with an additional font, Halifax
Bastia modern font is a classy and bold typeface that works in both large and small settings. But it definitely works best for headings and logos. It has smooth curves and clean lines. Bastia also comes with an outline version of the serif, perfect for layering. The font also comes with alternates for the letters 'k' and 's.'
The best part about this font is that this font comes with a bonus sans font that allows for the perfect pairing. Plus, combining the two fonts makes for a gorgeous logo. Halifax is also great for body text and documents.
Click to Check Price
6. Bastille Modern Font Duo
Sans and script font
$$
All caps font in regular and italic, uppercase and lowercase script font, ligatures, and 6 free logo templates
This modern font duo is everything you need for your next creative endeavor. Whether you're designing invitations, social media posts, blog posts, websites, or logos, you won't go wrong with this epic combo. Bastille Script has over 60 ligatures as well as alternates for each letter. The font includes alternate numbers and three different ampersands.
Bastille Sans is an iconic all caps font that pairs beautifully with Bastille script. You even can layer them on top of each other, or use another calligraphy font. Both fonts also offer non-English support.
Click to Check Price
7. Unleash – Edgy Font Duo
Handwritten and sans serif duo
$
What you get when you purchase the fon
Cool modern fonts don't get much edgier than this. Unleash is a stylish font duo that consists of a sans serif font as well as a handwritten font complete with ligatures and an alternative font.
The sans serif font is both clean and bold, pairing perfectly with the elegant handwritten font. It'll look phenomenal on headings, logos, and posters.
Click to Check Price
8. KIONA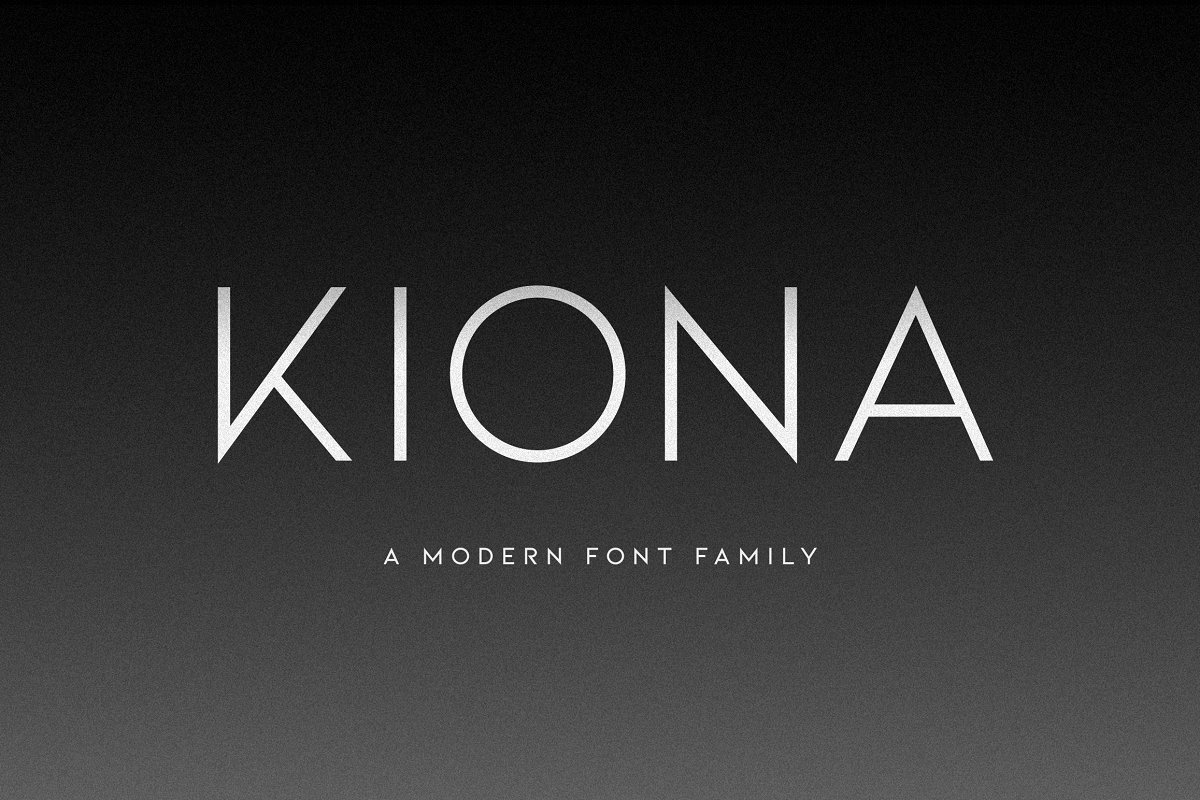 Sans serif
$$
All caps font with numbers and punctuation offering foreign support
If you're looking for a modern font family to take your designs to the next level, KIONA is an excellent choice. This modern-looking font comes in four weights with different personalities. It has crisp edges, modern touches, and makes a statement.
The bold version of the font is strong and edgy, while KIONA light is both delicate and elite. The regular and semi-bold fonts strike a balance between the other two. It also works beautifully in italic.
Click to Check Price
Final Thoughts on the Best Modern Typeface
Modern fonts come in various eye-catching designs and versatile weights. The right modern font can lead to the most beautiful designs! You can choose from an all caps, edgy font, a sans serif, sleek typeface, or a modern duo. These are just a few of our favorites.
For more modern font reviews, check out our top modern logo fonts or other popular fonts for designers.
As an Amazon Associate we earn commission from qualifying purchases. This helps us keep our dream alive to be able to write content on subjects we love and create opportunities to connect people through our social media platforms, helping them to network and build professional relationships. Thank you for your support!
Matt is about 80% nerd, 10% writer, 10% animal lover. His love for PC's started at the tender age of 4 and his love for animation and motion graphics fairly soon after. You can normally find him behind a computer screen or playing with his dog Rusty.