England's Victorian-era spanned from the coronation of Queen Victoria in 1837, until her death in 1901. This period of history is strongly associated with the technological benefits of Britain's Industrial Revolution. It introduced thousands of never before seen inventions and technologies. Many of these revolutionized the way people thought about production, marketing and even graphic design.
More whimsical than the sleek and simple Art Deco style fonts, but with less adrenaline than Wild Western fonts of the same Century, Victorian fonts are recognizable by their ornamentation and lavishly intricate decoration. As product competition in post-industrial England skyrocketed, so did the public's demand for bold, bright and eye-catching typography.
The use of decadent color-layering, borders, decorative finishes and flowing letters became the dominating period style. These enriching typefaces still evoke the excitement of a time when luxury items were finally accessible to non-nobles. And bring a sentimental nostalgia to any creative project.
Top Picks For Victorian Fonts

Top 1800s Font
One of the most popular and commercially successful fonts to come out of the 19th-Century was the Fat Face font. This typeface family was developed by merging two traditional fonts, Dido and Bodoni. But made them darker, bolder and more visually commanding.
Mammoth Fat Face font pays tribute to those original typesetters who (quite literally) broke the mold to give the world the most popular font of the 19th Century.
Top Victorian Typography
As more and more products filled the pages, product designers became increasingly creative when designing posters, logos, and product labels.
Victorian signage and typography such as Old Aflie followed the grace and delicacy of previous typeface-styles. But became more bold, bright and decorative in order to stand out from the crowd.
Top Victorian Lettering
Although the dominating style of the era was automated and ornamental, there was still an appreciation for hand-crafted, time-consuming workmanship.
Helsing may stand in direct contrast to the big, bold and brightly colored typefaces of the post-industrial Victorian Era. But it does capture the juxtaposed beauty of simplicity against technology.
Top Victorian Era Fonts Reviewed
Some inventions, such as printed media, graphic design and even modern advertising techniques were all developed during this time of rapid economic change. New products started to fill the pages of England's newspapers. Eventually "product catalogs" (our magazines' ancestors) were introduced to help Victorians choose what they could buy.
Printed advertisements in newspapers and magazines were introduced for emerging brands to establish themselves to consumers as well as to compete with each other. Color-printing technologies were also being fine-tuned and mass-produced.
As a result, Victorian typography became more bold, more colorful, and more stylized. This in addition to generously layered, textured and encased visual elements all became the norm of this period.
1. Mammoth Fat Face

● Fat Face letterpress font
● $
● Upper and lowercase glyphs, numbers, and 32 symbols
Mammoth Fat Face is inspired by the rule-breakers of the Victorian Era who went against tradition. They combined the classic styles of Bodoni and Dido to create a statement of a font we know as Fat Face.
Unlike the Edwardians, who reveled in tradition and aesthetic restraint, the Victorians adored reinvented fonts. Specifically, those that discarded the more traditional approaches to graphic design.
Despite its incredible popularity in the 1800s, this style of typeface is still a timeless classic that appeals to both classic and contemporary projects.
Click to Check Price
2. Old Alfie

● Embellished vintage font duo
● $
● Two fonts, forty vector ornaments and twenty hand-drawn Victorian floral designs.
The Victorian Era was a time of new inventions, products and processes. One such world-changing invention was that of the color lithograph. This creation enabled designers to replicate hundreds of visual printed copies with a fraction of the original effort.
Although this technology was primarily used for artists and illustrators, the ability to quickly replicate images in color was eagerly incorporated into the newfound world of Victorian product marketing.
Inspired by this technological innovation, Old Alfie uses the same bold and layered colors which set Victorians apart visually from any previous decade.
Click to Check Price
3. Helsing
● Serif-style font
● $$
● Includes upper and lowercase letters, as well as punctuation
Helsing breaks away from the more commercial memory of the Victorian Era and highlights the simple, hand-crafted styles of the century. This font is great for someone looking for a subtle Victorian script. Specifically, one that alludes to the class of Victorian England without the overwhelming ornamentation, colors and visual layers.
It serves well as a larger visual element, but lacks the same eye-catching flair that other Victorian typefaces. For this reason, it might be more effective as a body text application, or for a project that has more volume of text than a poster or label.
Click to Check Price
4. Arlington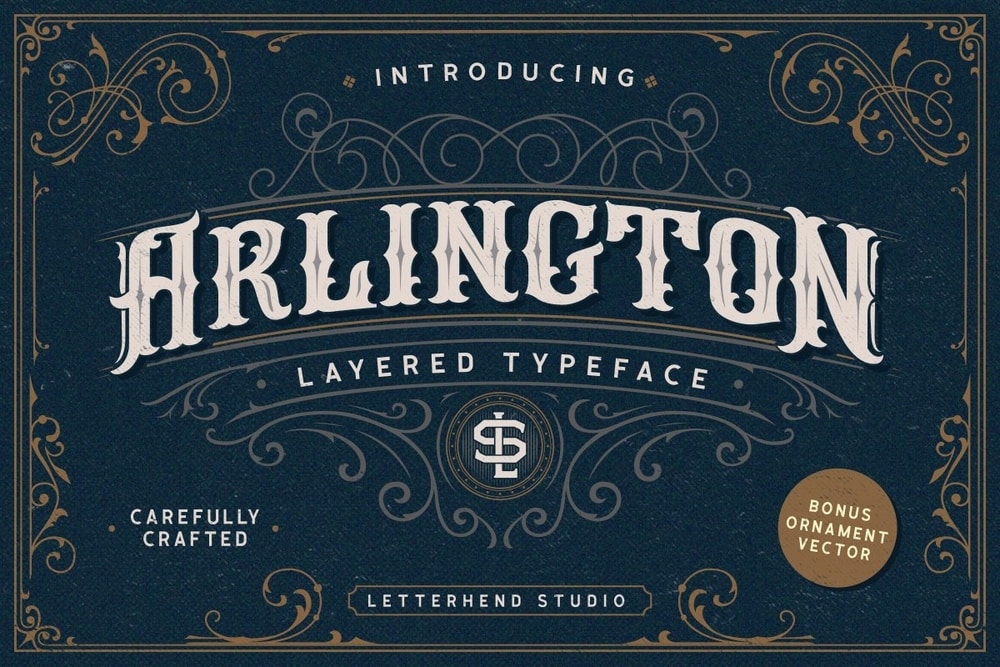 ●Layered vintage lettering
● $$
● Upper and lowercase letters, punctuation, symbols, numeral and a four styling options
Before industrialization, excessive decoration and ornamentation was a way for the noble classes to flaunt their wealth and class status. Perfect for logos and posters, this font is an ornate yet eye-catching font. It was created specifically to help elevate your designs to the standard of Victorian Royals
Arlington takes inspiration from the golden age of shopping – when a new demographic of Britain suddenly gained access to both basic and luxury items with competitive prices that everyone could afford.
Click to Check Price
5. Royal Signage

● Decorative vintage font
● $$
● A-Z character set including upper and lower-case letters
Once mass-production was able to replicate hand-crafted work, intricate ornamentation became the aesthetic characteristic for many products, shopfronts, and product logos. This was used as a means to allude to nobility and class. This font includes accented characters, stylistic alternatives, numerals, punctuation, and 40 vector ornaments and frames.
If you yourself are looking for an awe-inspiring font to elevate your brand, Royal Signage is a beautifully ornate Victorian typeface. Plus it has enough decorative elements to make any Victorian swoon.
Click to Check Price
6. Victoriandeco

● Antique-style decorative font
● $
● Comes with upper and lowercase letters, punctuation and a bonus vector frame
Victoriandeco is an antique typeface that is dedicated to the Victorian period of history. The letters are bold yet ornate. And gravelled in texture to give it an overall look similar to a vintage trinket at a flea market – rare, authentic, and a piece of history.
Following the aesthetic character of flowing and decorative lettering and accents, this 19th-Century font does well for poster, logo and general graphic design applications.
Click to Check Price
7. Bulges

● Layered Victorian signage
● $
● Three interchangeable layer types and a bonus ornament.
Another Victorian lettering font that is perfect for graphic design, Bulges is a layered Victorian signage font. It incorporates sleek elements of modern design and pairs them with classic 19th Century flair.
It includes an inset and shadow which you can easily apply or remove depending on your project's needs. Similar to the product labels, which heavily relied upon the visual elements of the logo, this font contains layers of scripts. These allow you to easily replicate the intricate and ornate details of Victorian imagery.
Click to Check Price
Why Choose Victorian Era Typography?
The Victorian Era and Industrial Revolution changed the ways in which Britain and the rest of the world viewed manufactured goods. It's easy to take for granted the technologies that came from this era but difficult to forget how this sudden surge in consumerism still affects our world today.
The graphic styles of the Victorian era may be dated, but they are iconically recognizable. They are associated with exciting change, emerging technologies, changing times, and accessible luxury.
As an Amazon Associate we earn commission from qualifying purchases. This helps us keep our dream alive to be able to write content on subjects we love and create opportunities to connect people through our social media platforms, helping them to network and build professional relationships. Thank you for your support!
Matt is about 80% nerd, 10% writer, 10% animal lover. His love for PC's started at the tender age of 4 and his love for animation and motion graphics fairly soon after. You can normally find him behind a computer screen or playing with his dog Rusty.