We take cash for granted. Maybe not when it comes to having and spending it, especially in today's economy, but in the look, feel and design, we barely even look. Think about it: When was the last time you actually took time to appreciate the way that your dollar bill was designed?
It is quite a feat of imagery, really. Not only does the American money motif have an interesting look to it but it also creates some serious controversy. I can't be the only one who has come across the claims that the eye and the wording on the bill, as well as the other images, are due to Freemason or other occult ideas.
Now, I am not saying I believe that myself, but it is one of those cool little stories that you can sink your teeth into. Believe it or not, the visual content of most money has a lot behind it, both philosophically and historically.
More than that, people have been designing versions of our dollar that express their own opinions and beliefs. Some are pretty interesting; check these three cool ideas out:
1. Money Map
The Middle East and the United States have had a complicated relationship for many generations. In this piece by Hanna von Groeler, she expresses the correlation between the region and American oil interests, which generate a great deal of profit every year.
Both Syria and Iraq are featured more prominently than the other countries, which is understandable given the fervor to score oil contracts from both by companies all over the world.
(Piece created by Hanna von Groeler)
2. Money Fun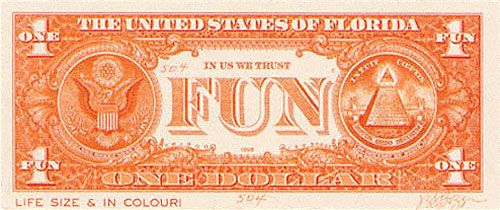 This artist has had his work seized continually by the Secret Service, owing to its similarities with real currency. He never sells it, as he feels it would be beside the point. Instead, he barters, using it by convincing people he buys from of the intrinsic value of the art.
His idea is that there is nothing real about money; he believes it is an abstract concept that is subjective and objective. While this is a solid basis for an art series, he is continually put on trial. It is understandable; while he does not spend it, others who get a hold of it might try to. But they seem different enough to be safe.
(Piece created by J.S.G Boggs)
3. Money Symbolism
These transparent coins are made by an anonymous artist who makes quite a statement. The material is a clear plastic, with an X-ray image inside. Each one depicts a tyrant or figure from history who has cost life, with an amount expressing how much each atrocity is worth.
For example, Hitler is worth 100, while Osama Bin Laden is 50. Further showing his or her views, the artist lists God as 1, though there is no specific religious figure God seems meant to represent.
On the other side is a representation of the legacy left behind. So Hitler has a swastika, while Osama Bin Laden has the Twin Towers.
(Artist unknown)
What are some interesting money concepts you have seen lately?
Community Author Bio:
Jessy is a creative blogger for Mobile Phone Finder, the free online tool to compare mobile phones and services.
As an Amazon Associate we earn commission from qualifying purchases. This helps us keep our dream alive to be able to write content on subjects we love and create opportunities to connect people through our social media platforms, helping them to network and build professional relationships. Thank you for your support!