We had a look at a young surf photographer, Coetzer Cooke, from Cape Town who's impressed us with his passion and drive to get quality shots. We hope you can catch some great tips from this rising star.
Tell us a bit more about yourself and how you started in photography
I'm 19 years old and from Cape Town, South Africa and I went to school at Paul Roos Gymnasium in Stellenbosch. Matriculated in 2011 and decided to take a gap year in 2012.
At first I started working for my dad, he owns a steel construction company, but I soon realized it wasn't for me. In February 2012 my dad was diagnosed with Prostate Cancer, so I had to stick around at the company to keep an eye for him while he was under the knife. He soon recovered and was clear of cancer. In May of 2012 I got a phone call from a close family friend that they needed someone to help out with mass photo editing at http://www.oakpics.com . That was where I first time I got introduced into the photography world.
I soon bought my first camera (2nd Hand Canon 30D) and started playing around with it a lot; I also started to go with Oakpics on photo-shoots and soon I did photography for them on a regular basis.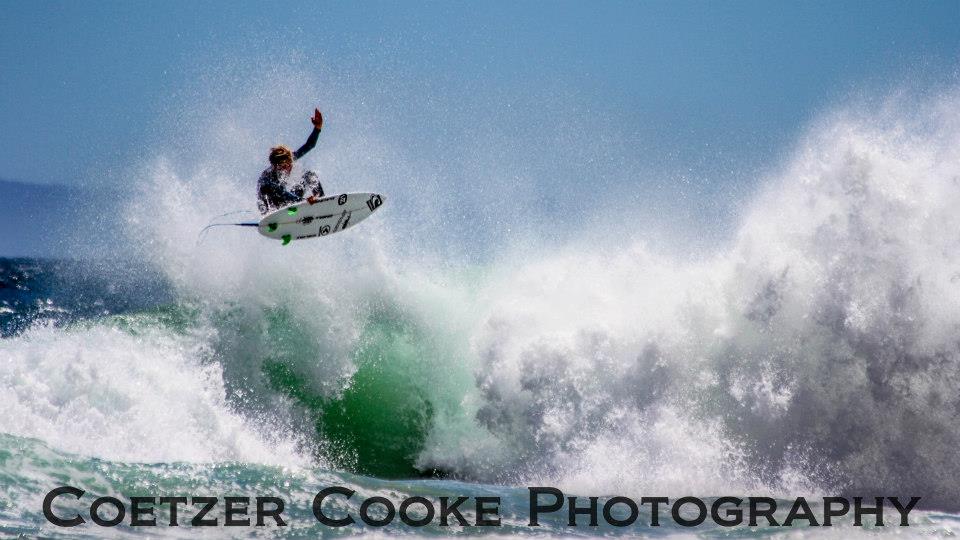 What are the main risks involved in surf photography and have you had any close calls?
It definitely has got to be the damp sea air – It fogs up your lens and can lead to water damage in the future.  I tend to keep my distance from the water at all times, so luckily no close calls as of yet.  You will usually find me high up on a rock far away from the water.
What's in your equipment bag?
I don't have much since I have a very strict student's budget. Currently I have a Canon 7D with a 17-85mm 4.0 and 70-300mm 5.6 Canon lenses. That is basically all I have at the moment, but as soon as I save up enough money I will be purchasing me a Canon 100-400mm 4.5 zoom Ultrasonic lens. It would be perfect for surf photography.
What kind of briefing session do you do with surfers before the shoot?
There isn't much i can alter seeing that the wave breaks at a certain place and they have their own style of surfing. Sometimes I'll just tell them to go for broke and attempt some radical moves, they don't have to land them, and I just have to catch them at the right moment in time. Other than that I just try to find interesting angles so that all the photos don't look the same.
How do you ensure your timing is spot on?
With surfing you have to take at least 4 -6 photos per move.  Say for instance the surfer is doing a 360 aerial move, you would have to keep shooting from start to finish and afterwards you can look if you got your shot. Surf photography is mostly luck. You just have to insure that the objects are in focus.
What shot are you most proud of?
Young surfer Steffen Burrows went over a wave that rebounded of the rocks and I caught him in mid-air, pretty stoked that I was with my camera at the right place and time.
What's been your most memorable shoot so far?
It definitely has to be covering the Cape Pioneer Trek, a 6 day stage race in the Karoo, South Africa. It really taught me to work under pressure and to make a six day cycling event look interesting day after day.
How do you deal with murky water conditions or cloudy days – do shoots get cancelled?
Here in the Western Cape the weather is very unpredictable and you never know how the day is going to turn out. I try to compromise in bad light, that I can still deal with, but if the waves are messy and it's really windy the waves look unattractive and that when I will cancel the shoot.
How long does the average shoot last?
Anything from half an hour to a whole day, it depends on the conditions, sometimes we have to wait for the tide to push in or out. My shoots aren't really time bound, which just puts everyone under pressure, including me.
Who do you admire in the industry and why?
Mickey Smith, from Ireland.  He works in one of the coldest parts of the world and he puts himself in very dangerous positions to insure he gets that perfect shot. You might know him by his famous video, "Dark side of the lens".
Any other tips for starters?
Practice makes perfect and you're not limited with your equipment, the camera doesn't make the photographer. And last but not least – one must be able to handle criticism.
Contact: 0727067285
Web:  http://coetzercooke.wix.com/photo
Facebook:  www.facebook.com/CoetzerCookePhotography
Email: [email protected]
As an Amazon Associate we earn commission from qualifying purchases. This helps us keep our dream alive to be able to write content on subjects we love and create opportunities to connect people through our social media platforms, helping them to network and build professional relationships. Thank you for your support!